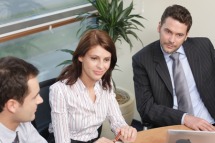 Well-being and success for your business and your employees
Whatever your business needs are we can help. We come from a psychotherapy background but our coaches are all trained executive coaches and understand corporate psychology. We have over 15 years of experience in the corporate consulting/coaching world and understand that unless you look below the surface, at the group psychology, you could be holding your true potential back as a business. In no time you could have your company coach who will keep you on track with all your well-being and growth needs as a business.
What your company coach will provide for you:
1. Counselling/therapy for corporate well-being
2. Stress management
3. Executive coaching
4. Leadership coaching
5. Team coaching
6. Various workshops depending on your needs: communication skills, assertiveness skills, change management, emotional intelligence - the soft skills in business
7. Anything else you agree with your coach that will help move your business forward
Our model of working:
Step 1: The initial consultation phase
We meet for 2 hours and you and your company coach will agree what's not working in the business and how we can remedy it as soon as possible. We are firm believers that unresolved issues in a company just get worse if they're not addressed. Once a plan if action is established we move to step 2.
Step 2: Preparing the staff for the plan of action and implementing it.
It's important to include your staff in what's happening and how it will benefity them and the compancy so they can become advocates. Once the counselling, coaching and workshops get under way we closely monitor their progress with you.
Step 3: Looking at the results and follow ups.
Your company coach will look at the results and discuss follow-ups with you. This is to ensure the work we have done is permanent.
Call us on: 07961297027 for an initial consultation.